Without the proper shelving hardware, your warehouse can quickly begin to resemble a hoarder's paradise. Thankfully, with the right kind of industrial shelving you can get organized, display your commonly picked items in a way that makes them easy to pinpoint, and identify overstock.
Shelving also makes your organization more profitable by helping you maximize the space without the need for a costly warehouse expansion or relocation. Stacking your inventory vertically with shelving units can dramatically increase the size and effectiveness of your warehouse. With more product on hand and a safe way to keep it organized, your operation can excel to new heights with the right shelving unit!
Here's a quick look at some of the most popular types of industrial shelving to get you started.
Metal Shelving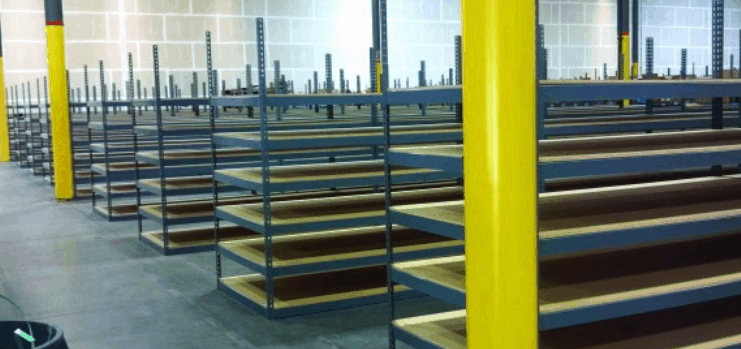 If you're in the business of bulk storage, finding the ideal shelving solution begins by investigating your options. First, think about how much space you have to work with and the types of items you plan to shelve.
For example, if you frequently find yourself needing to re-arrange the layout of your warehouse, metal clip-type shelving that replaces semi-permanent nuts and bolts in favor of compression clips allows for easy installation and greater flexibility when storing bulkier packages. They're also easy to add on or customize as your operation grows.
However there is no limit to the features you can have when it comes to shelving. Some other Types of Industrial Shelving include:
Multilevel– This type of system expands the capacity of your warehouse with minimal overhead cost. Multilevel systems are best known for their ability to help you utilize unused overhead space. If you're planning an expansion of your current space or weighing the costs of a pricey facility move, they're a great cost effective alternative. These units also have a specially engineered design that surpasses OSHA safety requirements
Open Unit– For the products in your warehouse with especially high volume, like new tech devices or seasonal items, open unit shelving is designed to aid re-stocking and retrieval. Sway braces also add a layer of stability to bulky, boxed, or packaged items.
Closed Unit– When storing sensitive items like food and other perishables, Closed Unit shelving can prevent hazards like open-air contamination from dust particles and temperature shifts. On a smaller scale, closed units make great in-office additions since they can be customized to match surrounding decor.
Bin Unit– When storing intricate pieces and parts associated with the same order, organization and separation are top priority. Bin shelving units are complete with adjustable dividers that allow for a wide variety of configurations. Ideal for varying organizations including mechanics shops or hardware stores.
Boltless Shelving

If easy assembly and stability are your top priorities, Boltless shelving, otherwise known as rivet shelving or particle board shelving, could be the way to go.
Whether your operation is temporary or you're looking for a quick stopgap solution, it's great when you need a light-duty option. The unit arrives in a compact bundle that requires little more than a rubber mallet to affix the unit together. With nuts, bolts, and fasteners removed from the equation, it's ready to help you get organized in a snap.
Depending on what type of application you require there are different Types of Boltless Shelving that can help meet your needs:
Low Profile Shelving- This unit gets its name due to its ability to effectively store items with minimal use of space. Its ability to play well with mobile and mezzanine systems make this multipurpose shelving an ideal choice for an array of applications. Similar in ability to steel and metal shelving units, but with a much more economical price tag.
Long Span Shelving-Ideal for retail and other types of manual storage that require a high capacity system, these tough yet functional units are a highly economical solution that offer versatility and adaptability.
Z Beam Shelving-To get the benefits of both long span and low profile shelving Z Beam is the way to go. These units form a system that's capable of handing your high capacity loads with a low-profile beam. Also perfect in the offices or backroom areas where space is the main concern.
Ultimately, even if you know the benefits and ways industrial shelving can improve your picking processes or overall organization, it can be difficult to know which options are right for your operation. Let this guide serve as a jumping off point and help get your business on the up and up!