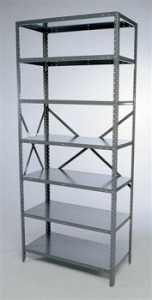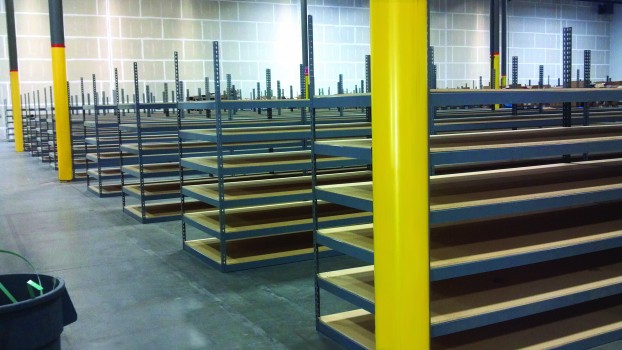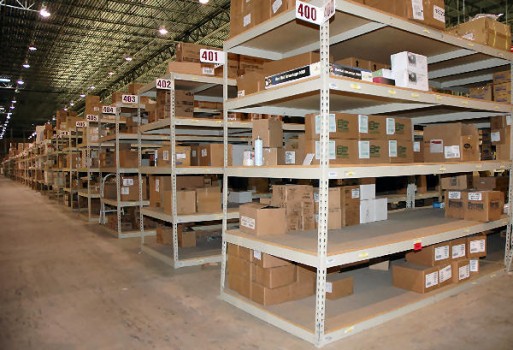 Boltless shelving is sometimes also called rivet shelving or particle board shelving. Boltless shelving is often a popular choice for industrial storage applications, because its rivet-lock system makes assembly a breeze while also preserving sturdiness and capable capacity. At Rack Express, not only do we have large boltless shelving inventory in our yards, but we are also a proud distributor for leading shelving manufacturer, Western Pacific.
Types of Boltless Shelving
Long Span Shelving is the perfect choice when a tough, high capacity system is needed. These racks provide a strong, functional, and economical solution to your most difficult storage problems. From industrial to retail storage, Long Span holds it all.
Low Profile Shelving is highly versatile which makes it the ideal choice for a wide variety of applications, including use with mobile and mezzanine systems. Not to mention, it provides the same profile as metal shelving at a much more economical cost.
Z Beam Shelving combines the best of long span and low profile, creating a high-capacity system with a low-profile beam. It's the perfect solution to maximize space in the front office or the backroom.
Shelf Supports
Boltless shelf support sizes we carry include lengths of 12″, 15″, 18″, 24″, 30″, 36″, 42″, 48″, 60″, 72″, and 96″. Types of supports in inventory include Low Profile (single or double), Shelf Tie Supports, and Z-Beams.
Shelf Posts
Boltless post heights vary from 6′ to 12′. In addition to standard upright posts, we carry Tee Posts and Heavy Duty posts. As always, feel free to contact one of our experts if you need assistance in choosing your post options.
Quick Assembly
Everything you need, shipped in a compact bundle for easy assembly Just tap the boltless shelving together with a rubber mallet—that is all it takes. No nuts, bolts, or other fasteners are required. In just minutes, Boltless Shelving is ready to work.
[/fusion_builder_column_inner][/fusion_builder_row_inner]

Longspan Shelving

Low Profile Shelving

Z Beam Shelving