Is your warehouse fraught with non-standard products that are over-length, bulky, and creating chaos on your storage floor? Did you know you can maximize your available space with a cantilever rack system?
Famous for their ability to house cumbersome materials like lumbar and piping, cantilever racks are specially designed storage shelving that are the industry go-to for large, heavy inventory. Their capacity to store over-dimension items from furniture to automotives lead the cantilever rack to go by various names.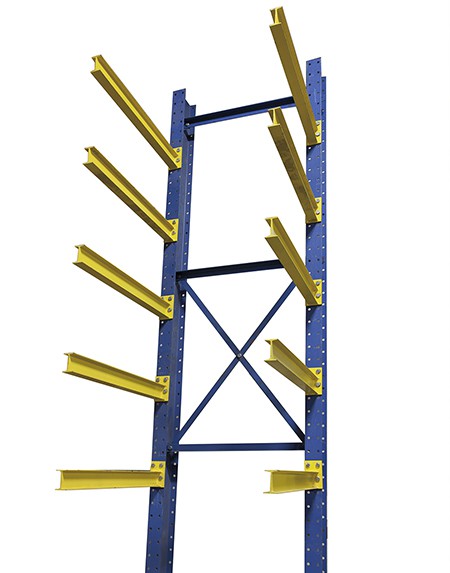 Cantilever rack systems are a must in a variety of industries, and warehouse managers appreciate its flexibility. It's often structured to mimic traditional pallet racking and decked to provide comparable static storage. Still, its ability to provide easy retrieval for larger loads makes it particularly advantageous.
As we'll see, cantilever racking can stand up to a wide range of material, offering an efficient storage solution that's widely popular among top warehouses. Let's look at how its high storage density and adaptability makes it a very popular storage solution while practically guaranteeing a return on your investment.
Structural or Roll-Formed Cantilever Racking
When you size it up against standard pallet racking, cantilever racks offer a highly flexible storage solution that's as adaptable as it is compact.
The big difference is its ability to store long, odd shaped inventory, all of which hinges on its unique the skeletal makeup. With the front columns removed, cantilever racks allow for storage along the entire length of a row. The increased space isn't impeded by a rack structure, leaving additional room and plentiful handling clearance thanks to increased horizontal space.
Customers can choose from a variety of different cantilever racks to meet their individual storage needs:
Standard duty
Light duty
I-beam
Furniture cantilever racks
Benefits of Cantilever Racking
The benefits of investing in a cantilever rack are numerous. These storage systems:
Increase the ability to store loads of all variety, but especially adept at cumbersome, heavy, non-standard product.
Lower handling costs and time thanks to its easy load and unload functionality.
Provide abundant horizontal space that increases the handling clearance while remaining highly compact.
Are economical due to efficient handling and increased space. Unlike standard pallet racks, cantilever storage systems become more economical as load length increases.
Offer unmatched flexibility since the entire length of the rack is available, and a highly selective makeup that makes storage slots more readily accessible.
Whether you are storing lumber, metal, carpet rolls, pipes, tubing or even furniture, a cantilever racking system will help you maximize your warehouse space. Let our team of knowledgeable industry experts help design your storage solution – contact us today!