Good news: an array of warehouse-hacking pallet storage solutions exist to turn your facility into an organized and profitable picking machine. Bad news: without underpinning your precise needs the options for racks can be a little difficult to sift through.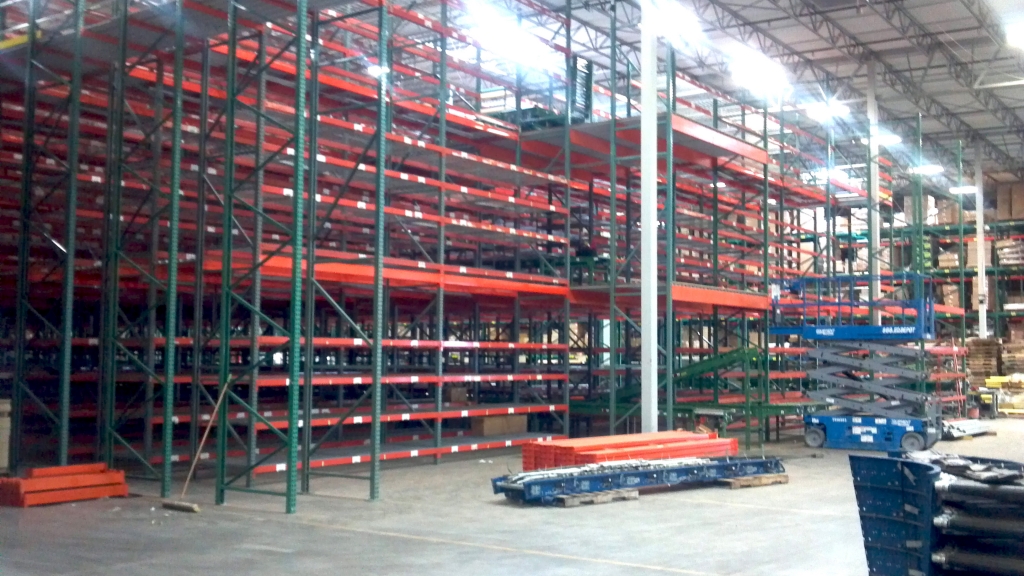 Before your company spends significant chunks of the budget for a system that isn't a true solution, get clear on the following:
Your max spend for a racking solution
The total floor space and ceiling height available for pallet storage
Number of different products for which you need rack storage
Frequency with which you need to access products in your racks
Shelf life of your products
What kind of truck access you'll need including lift height
From there you'll have the basics you need to approach the following pallet solutions from an informed place. We've also listed some pro/con factors for quick reference:
Cantilever Racks
Maximizing space is top-priority in any warehouse operation. When storing lengthy, over-dimensional products like tubing or lumber it becomes positively critical. Structural or Roll-Formed Cantilever Racking offers compact and adaptable storage that differs from standard, less flexible pallet racking.
An absence of front columns means bulky or oddly shaped items like furniture can easily take up residence across an entire row without impacting your limited space. These racks also accommodate substantial handling clearance for larger, over-length items like piping or carpet rolls thanks to the increased horizontal space.
Pros
Long and open clearance leads that are perfect for lengthy items like building materials or furniture
Flexible multi-length levels can be adjusted for different SKUs
Cons
Warehouse space typically needs to have generous aisle widths large enough to accommodate picking and restocking
Drive In Pallet Rack
High-density warehouse spaces that accommodate products with long shelf lives are always in need of more storage capacity. Cost-effective drive-in pallet racks can help increase storage by up to 75%. They're especially great for Last in, first out (LIFO) or First in, first out configurations (FIFO) where products don't always require immediate accessibility.
The decreased aisle space reduces the square footage requirement and simplifies forklift paths by making the entry and exit point at each opposite end the same.
Pros
Cost-effective solution for LIFO or FIFO access
Unmatched storage potential for items which don't require immediate access
Cons
Difficult to reach all non-end rack pallets by forklift
Potential for rack damage from fork trucks as they navigate narrower aisles
Push Back Rack
Push back racks are often the front-runner solution for warehouses challenged by limited space. That's because they offer as much as 90% more product storage than selective rack systems by eliminating the need for multiple loading/unloading aisles.
Push back racks work similar to a vending machine. Once a product is selected, subsequent pallet carts to roll forward. The mechanism consists of a series of nesting carts that move along steel rails. This provides easy access to an array of products and SKU's that can each be stored at different levels. Not unlike a drive-in pallet rack, the system uses an LIFO inventory control approach. However in this system, the fork trucks needn't enter the rack.
Pros
High storage density without the need to drive into the rack, limiting potential damage
Front loading/unloading eliminating the need for multiple aisles
Cons
Inability to access all pallets
Limited depth– restricted to 4-5 lanes max
Pallet Flow Rack
High volume and fast moving product is a unique combo that requires a special solution to stay on top of picking. A high-quality gravity-fed pallet flow rack system is just the solution to help cut costs while saving on valuable space.
Inclined shelves use gravity's natural force to naturally draw palletized loads forward to the designated picking position. Deep pallets save on square footage by acting as substitutes for aisles. Product is loaded from one side and picked from the opposite side.
Pros
Products can be stored 20+ pallets deep creating an ideal high-density storage solution
Singular loading/unloading point limits damage from forklifts
Flow racks can be added to nearly any existing pallet rack configuration
Cons
Can be a more costly investment than other storage options
Poor accessibility to all pallets
If your warehouse could benefit from additional floor space and increased storage, these pallet storage options can help. Though it's important to understand the pros and cons of each before you settle on a solution. Having trouble getting a feel for how these racks would work in your space? Contact one of our solution design team members and ask about our warehouse design and AutoCAD drawing services.