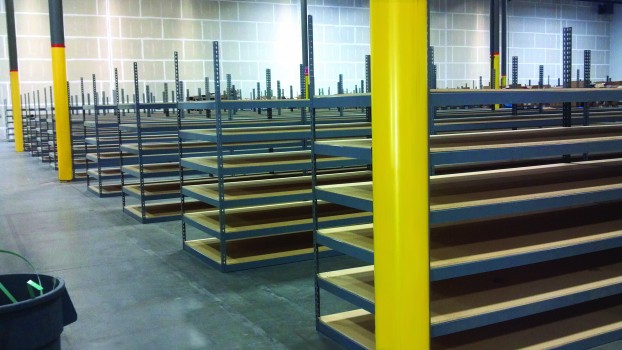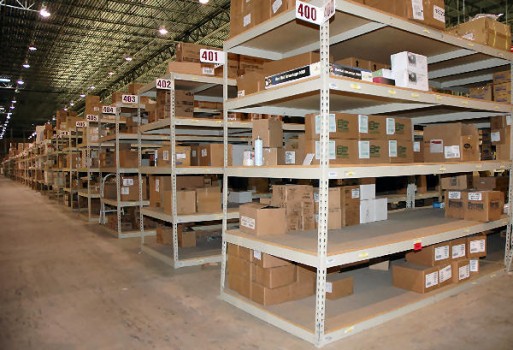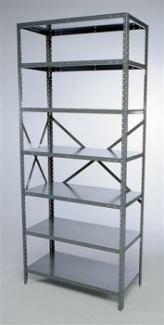 For any kind of bulk storage application, industrial shelving is your ideal solution. Rack Express carries compression steel shelving and boltless shelving, along with a wide array of various industrial shelving types and configurations.
Metal clip-type shelving uses compression clips, rather than nuts and bolts, allowing for easy installation and flexibility when arranging shelf locations.The compression clip design provides basic, all-purpose storage that has proven to be ideal for bulky or packaged items. We can supply shelving either by individual components, or by starter/adder units. Also, if necessary, we can custom manufacture a metal shelving solution based on your specifications. If you need help figuring out which configuration is best for you, contact one of our experts for free consultation.
Types of Industrial Shelving
Open Unit The open unit shelving design ensures easy stocking and retrieval. This storage option is ideal for bulky, boxed, or packaged items. Sway braces are provided for added stability.
Closed Unit shelving is ideal when containment and storage continuity is key. It's clean appearance is ideal for office use and can be customized to match existing decor.
Bin Unit For premium organization and separation, bin unit shelving is optimal. Dividers are adjustable and a wide variety of configurations are available.
Multilevel Multilevel systems expand capacity while minimizing overhead costs. These units are safety engineered to surpass OSHA requirements.