Reorganizing your warehouse is no small to-do.
It creates costly periods of downtime that can sink your productivity. That's why it's so important to invest in products that are durable enough to withstand your day-to-day operations and versatile enough to grow with you.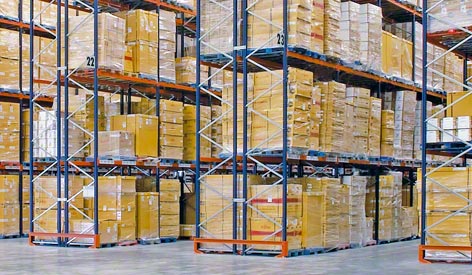 Warehouse managers looking for such a solution often turn to steel industrial shelving.
Here are ten irrefutable advantages to installing a steel shelf racking system.
Customizable
More than any other shelving type, these steel wonders are highly accessorizable and can be customized to fit any size job. Whether you require dividers or all out drawer inserts, shelving can be clipped in virtually any direction with innumerable accessories.
Adjustable and flexible setup
Compression clips allow shelves to be adjusted in within ½- 1 1/2 increments. This gives warehouse staff the flexibility to create the most productive shelving design for their individual inventory
Easy to assemble. When you need additional shelving quickly, the easy assembly of a steel shelving unit is the way to go.
Affix support rivets to upright posts and you're back in business. In most cases, assembly can be accomplished sans hardware.
Durable
Reinforced with a scratchproof paint coating, upright posts made of gaged steel secure your shelf supports. From forklift impacts to heavy loads, they can stand up to your site's wear and tear.
Fortifiable
Have an unusually large or hefty load? These versatile shelves can be fortified with center supports for additional peace of mind.
Cost-effective
These dependable shelving units offer some of the strongest storage available, and are some of the most affordable long-term solutions on the market.
Product visibility
Increased visibility can improve your picking and overall productivity. Make it easy for floor employees to locate specific items in the bin by storing inventory in a way that it can be located and accessed, efficiently.
Larger item storage
Be it machine parts or some other oversized load, you can easily store hard to house products with the proper shelving. Skip the bins and boxes and forget stacking, bulkier pieces do best on shelves, away from aisles.
Delicate item storage
Items that are more fragile in nature are likely to break if not stored openly on proper shelving. Doing so will help you keep your inventory safe and prevent unnecessary costs due to breakage.
Increased space
In the warehouse, space is always a concern. Making the most of what you've got and strategically increasing it can drastically improve your bottom line. Steel shelves can be placed very close together or piled high to make use of floor space.
Efficient, easy to manage, and superbly sturdy, steel racks offer warehouse managers a host of advantages that can increase their profitability in the long-term.
Are you planning a warehouse relocation in the near future? We specialize in transitioning growing companies and making your move a priority, not an obstacle.
Contact our experts today for a free consultation.