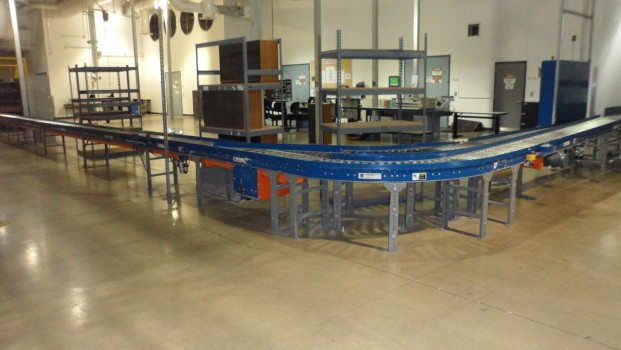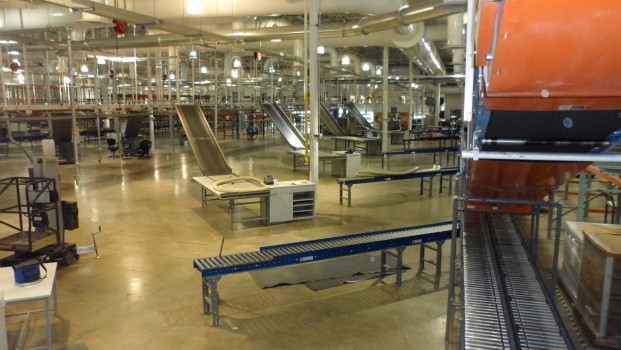 Much like the roller conveyor, a skatewheel conveyor is also non-motorized. It is designed with metal or plastic wheels that roll a package down to a lower level by gravity. These conveyors are called skatewheel conveyors because the rollers on the conveyor resemble the wheels on roller skates. These wheels are equally spaced along the length of the conveyor so that every box and package is supported by more than one row of wheels. Packages are protected during transport with railings on each side that also help goods stay centered on the conveyor.
A benefit of skatewheel conveyors is that they are lightweight and portable for a variety of delivery applications. They can be used to connect different sections of moving conveyors in packaging and sorting. Skatewheel conveyors connect different sorting conveyors, allowing packages to move from one to another without additional labor. Since wheels turn independently, skatewheel conveyors are a good choice for the curved sections of a conveyor line.
The free-spinning wheels of skatewheel conveyors allow products and packages to be moved manually with minimal effort, or installed with a slight pitch and gravity takes over. The light weight construction of this conveyor makes it ideal for portable applications.
Is the skatewheel conveyor right for you? Contact Rack Express today to find your conveying solutions.
[/fusion_builder_column_inner][/fusion_builder_row_inner]